Morning Star's trained specialized staff is passionate about serving women and families in our empowering, holistic model of care. With our unique and personalized approach to all aspects of your care experience, we strive to create a loving, nurturing community that you'll always feel connected to. Professional Midwives make your pregnancy and birth event a relaxed, enjoyable experience.
---
Adjunct Providers Offering Services at Morning Star
Paula Bernini Feigal, CPM, LM —
CEO/Executive Director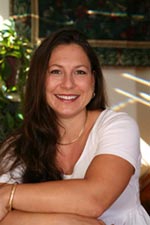 Philosophy
Women deserve safe options in childbirth. They have the right to make educated, informed decisions about their health care including the choices they have for maternity care providers and birth locations. I believe that all women need to be treated with dignity and respect. Birth is an event whereby a woman's life is inevitably transformed. It is a powerful and sacred process and my goal is to safely facilitate this passage with patience, intuition, skill and compassion. An empowering birth experience sets the stage for infant-mother and family bonding, the effects of which last a lifetime.
Education
Paula's education in midwifery began with the successful completion of an academic and clinical apprenticeship program with Barbara Cook, CPM, in Dallas, Texas, in 1993. She served as the resident midwife at a state licensed Birthing Center during the duration of the program. At that time she completed the requirements for certification by the Department of Health and became a Neonatal Resuscitation Program provider. She has earned CPM certification by the North American Registry of Midwives and holds degrees in Biological Sciences and Psychology.
Experience
Paula has been practicing independently since 1993, when founding Morning Star Birth Services, LLC, and now owns and operates Morning Star Women's Health and Birth Center. She enjoys the opportunity to speak regularly at our local high school about career paths in midwifery. She is committed to midwifery education and mentors student midwives.
Personal Information
Paula has lived in Menomonie since 1996 and lives with husband Mike and daughter Alexandra. We enjoy the arts, gardening, our pets and traveling (when we can!).
Close
Rebecca Gorski —
Chief Operations Officer
Assistant Director-Menomonie and St. Louis Park
Birth Assistant-Menomonie
(Photograph courtesy of Zane Taylor Photography)
Rebecca has been with Morning Star in some capacity for almost five years, as well as serving as a charter member on the Advisory Board since its inception in 2009. Rebecca is originally from the Milwaukee area, and moved to Eau Claire in 2003 with her husband, after serving four years in the Air Force. She received her B.A. in Scientific and Technical Communications from UW-Eau Claire in 2005 and worked for several years in that field, prior to having children and migrating to birth work. In addition to being the COO of the organization, Rebecca is also a birth doula and birth assistant in our Menomonie location, and cherishes her role in the sacred space of birthing moms.
Rebecca lives on the outskirts of Eau Claire with her husband, their two free-range boys, and a varying array of farm animals. They enjoy living sustainably on their small plot of land and raising free-range, organic chickens, pigs, sometimes a few ducks, and whatever fruits and vegetables they can convince to grow there. Rebecca is thrilled to be a part of enabling Morning Star to be an influential and stabilizing force in the birth center community, and to open up this option of care to mothers and families everywhere.
Close
Kim Blue —
Executive Administrative Assistant
Office Manager-Menomonie
Kim comes to Morning Star with a background in administrative office work and coordination. Prior to her employment with Morning Star, Kim worked as the State Grants Coordinator and provided administrative support for advisors of students from special populations at Madison Area Technical College in Madison, Wisconsin. Supporting midwives as part of the management team of Morning Star Birth Center is an exciting opportunity to blend philosophy and work for Kim; she looks forward to working with staff to help create and nourish a culture that promotes women-centered birth options.
At home, Kim enjoys writing, reading, gardening, cooking, preserving food, growing and using herbs, and mindfully participating in the local ecosystem with her two children and homeschooling husband. Originally from the part of Illinois where anything below 20 - above zero - was considered really cold, she took her B.A. in Creative Writing and moved to Mankato, Minnesota to complete an M.S. in Women's Studies. Pulled by the beautiful winters and friendly cooperative nature of the North, she has called Wisconsin home for over 15 years.
Close
Gayle Lohmar —
Practice Manager
Gayle has been involved with Morning Star Birth Services since she was in her teens, helping with office duties in the Menomonie birth center whenever the opportunity arose. She has been passionate about the Midwives Model of Care since then, and she and her husband had two home births with a CPM in Boulder, Colorado. With the supportive evidence of the model of care and her own birthing experience at home, she has become an advocate for women's health and informing women of the alternative options available in maternity care.
Gayle and her family live in Burnsville, MN. She completed her Bachelor's Degree in Business Administration at the University of Colorado at Boulder, with a focus in marketing and international business. Before starting at Morning Star, Gayle worked for a non-profit organization that provides services for children with mental and physical challenges. When she is not working, she loves adventuring, organic gardening, preparing slow-cooked meals, and spending time with her husband, Eric, and her daughters, Grace and Sayla.
Close
Jenessa Payano Stark, CPM, LM —
Staff Midwife
Jenessa has been interested in birth since a very young age. After her cousin had a homebirth when she was only 16 years old, Jenessa knew her calling was to become a midwife. She enrolled in a doula training course, and began to shadow a midwife to births while still in high school. After graduating summa cum laude from Augsburg College as a Presidential Scholar with two BAs in International Relations and Spanish, she traveled to rural Guatemala where she spent time living and working with two indigenous midwives.
Her formal midwifery training was completed at Maternidad La Luz Birth Center in El Paso, TX where she fulfilled the requirements for the Certified Professional Midwife credential through the North American Registry of Midwives. Upon graduation she moved back to New York City and worked alongside beloved midwife and friend, Cara Muhlhahn, CNM, assiting her in homebirths throughout Manhattan, Queens, Brooklyn, and New Jersey. Jenessa has also worked briefly attending births as a midwife in Puerto Rico.
Jenessa is committed to the midwifery model of care and believes in providing loving, respectful, personalized care to all midwifery clients and treats the prenatal time, labor and birth, and the postpartum period as normal processes, not an illness.
Jenessa and her husband live in South Minneapolis where they are thrilled to have a yard and room to ride their bikes with less traffic.
Close
Vanessa Menanteau, CNM, LM —
Vanessa is a staff midwife at Morning Star Birth Center-St Louis Park. She is originally from Spain and France. She holds a Bachelor's degree in International Business from Spain and is a Master's prepared CNM from Frontier University. While getting her midwifery degree, she worked as a staff doula at HCMC for two years serving a diverse population; she also worked as an LPN and then an RN at the Allina Clinic in Shoreview.
Vanessa strongly believes that birth is a natural process and should not be treated as an illness. Women who have the right support and are in the right environment are in the optimal situation to become mothers and have a wonderful birth experience. Vanessa always enjoys watching this natural process unfold and being there to assist along the way.
Vanessa lives in the Shoreview area with her supportive husband and 3 wonderful boys. For her last son, she had a water birth at home surrounded by family and a great team of midwives. Vanessa enjoys healthy living and visiting her family in Europe and in Costa Rica. She is also passionate about promoting birth center care in the community and across different cultures.
Close
Rosa Oesterreich, CPM, LM —
Staff Midwife
Rosa Osterreich, CPM, LM, is a temporary staff midwife at Morning Star Birth Center-St. Louis Park. She is also a home birth midwife working with Blue Moon midwifery. She has attended over 1,000 births and has a three-year MEAC-accredited degree from Maternidad La Luz, where she also completed her midwifery residency. She has studied midwifery in Calcutta, India, where she attended home births with traditional midwives. She currently resides in the Powderhorn Neighborhood of Minneapolis.
Close
Nyemo Mbennah —
Clinic Assistant
Nyemo Mbennah is a clinic assistant at Morning Star. She was born in Tanzania, and raised in Tanzania, Kenya and South Africa. Most of her family lives in South Africa, so this is her country of permanent residence. Nyemo loves crafts, such as knitting, sewing, drawing and decorating. She loves learning new languages and can speak about four. She is very musical as she sings and dances. Her favorite music to dance to is Salsa. She is a nursing assistant with a bachelors degree in Premed Biology from the University of Northwestern-St. Paul. Prior to joining Morning Star, she worked with people with disabilities and also in Pharmacy benefit management. She is passionate about the midwives model of care and she aspires to go to medical school in pursuit of becoming an OB/GYN.
Close
Jacqueline Lynch, CPM, LM —
Staff Midwife
Jacqueline began her path to midwifery while serving as a Peace Corps volunteer in Bénin, West Africa. Returning to the US, she tried to continue her career as an English/TOEFL teacher, but the idea of attending women through their childbearing years wouldn't leave her alone. As a master's student in Boulder, CO. she began to meet women and families who were using midwives to birth their children, many on their rural lands way up in the Front Range of the Rocky Mountains. It soon became apparent that this was her true calling, and no other life path would do. After working as a doula for several years throughout Boulder and Nederland, Jacqueline relocated to Portland, OR in 2005 to attend Birthingway College of Midwifery. She apprenticed with several independent midwives in the Portland area, and then went on to complete her studies at two birth centers in central and southern Oregon. She has also attended births at the MamaBaby clinic in Cap Haitien, Haiti.
In her spare time, Jacqueline enjoys organic gardening, growing medicinal herbs, and spending time with her canine & feline "family." She is brand new to the Midwest, and is excited to become a part of the Morning Star team.
Close
Emily Fried —
Administrative Assistant
Emily is an Administrative Assistant, Peer Counselor for Strong Start, and the Outreach and Volunteer Coordinator at Morning Star. She started as a volunteer in July and was hired on in September as a part of the Morning Star family. She holds an Associate of Arts degree from Cottey College, a private liberal arts women's college in Missouri. She is currently in her last year of nursing school, where she will be graduating with a Bachelor's of Science in Nursing degree. She can't wait to graduate so that she can continue her education in a nurse-midwifery program, where she plans to earn a doctoral degree.
Emily has been drawn to birth since she took a women's studies class in 2009 and learned about orgasmic birth and watched "The Business of Being Born." She immediately knew that she had found her calling and wanted to be a part of the movement to empower women through their birth and healthcare experiences. She fully embraces the Midwives' Model of Care and feels so blessed to have the opportunity to positively impact women through her positions at Morning Star.
As a full-time student with multiple positions at Morning Star and another job with a home healthcare agency, she doesn't have much spare time. When she does, she enjoys hiking with her fiancé, Rich, and their beloved dog Mishka. They hope to get chickens this summer and expand their garden. Other passions include crafting, urban-exploring, yoga, cross-country skiing, and trying new types of cuisine.
Close
Cat Burns, RSMT, CST —
Registered Somatic Movement Therapist, Craniosacral Therapist
How can I get comfortable in my pregnancy and be well aligned for birth?
Can my baby find the best position for birth?
I want to bring mindfulness and movement into healing and mothering.
Catherine can help you and your baby in pregnancy, birth, nursing, post-partum recovery and early childhood. She specializes in helping childbearing women, infants and young children. With gentle craniosacral therapy she has relieved many backaches, and helped newborns resolve breastfeeding problems, often in just a few sessions. Catherine retrains myofascial alignment problems that create discomfort in pregnancy and impede birth.
As a somatic movement therapies Catherine supports body-mind integration. Catherine helps women prepare for birth by connecting deeply inward within oneself, heal old traumas and ready for mothering. A woman can directly experience in utero movements of her baby to kinesthetically connect with her child's journey of creation and birth. She can prepare to actively partner with her baby in birth. Catherine combines mindfulness and movement awareness in somatic therapy.
Help! Isn't breastfeeding supposed to be easy?
Why is my baby crying all the time?
We had a hard labor, and I'm on an emotional roller coaster!
Early intervention can reduce risk of ear infections, and help stabilize a child's visual and auditory systems.
Infant developmental movements are nature's design for forming a child's emerging sense of self, emotional balance, attentional networks, strength and grace. Catherine can give your baby the best start. She provides hands-on therapy and teaches parents simple activities that you can do at home to help your child.
Catherine offers craniosacral therapy, lactation support and somatic developmental movement therapy at Morning Star Birth Center, St Louis Park, every other Tuesday. For appointment contact Catherine at Catherine@MamaBebe.org or 612-227-3071.
Close
Julie Lynch, L.Ac., Dipl.Ac., M.Ac., L.E., MT —
Julie Lynch, a practitioner of acupuncture and Traditional Chinese Medicine, is also an entrepreneur seeking to share her passion for Eastern medicine and holistic health care. She is the founder and owner of Samasta Wellness.
Julie is licensed and registered by the Minnesota State Medical Board and certified by the National Certification Commission for Acupuncture and Oriental Medicine. She completed her studies in acupuncture at Northwestern Health Sciences University in Bloomington, MN. In addition, she has an undergraduate degree in French and Spanish Studies and is a Certified Massage Therapist and Licensed Esthetician.
Prior to starting her business, Julie completed apprenticeships at University of MN - Medical Center (Fairview Hospital), Courage Center, Salvation Army, Pillsbury House Theater, Edith Davis Acupuncture Clinic and the American Academy of Acupuncture and Oriental Medicine Clinic. Her experience ranges from stroke rehabilitation and post-surgical pain management to treatment of digestive complaints, insomnia, chronic pain, and prenatal/postpartum support. Most recently, her practice is focused on women's health – everything from regulating monthly cycles and accompanying symptoms to ensuring a healthy pregnancy.
In addition to helping her patients, Julie enjoys spending time with her partner, Jeff, and children, Marleyna and Jackson. Practicing yoga and staying active, exploring local grocery stores for the best produce and whole foods and dabbling in complimentary therapies (such as Aromatherapy, Colorpuncture, and Homeopathy) are ways that Julie keeps her own family as well as possible. Still a novice cook and gardener, Julie will never stop being a student. There is too much curiosity to ever stop learning!
Julie offers her services at Morning Star by appointment and can be available for birth work. To make an appointment or to learn more about her services, please contact her by email at Julie@SamastaWellness.com or by phone at 612-314-9642.
Close